Tbilisi (GBC) – In Georgian IT companies, including those with the status of Virtual Zone Persons (VZP), the average salary in 2022 was 4,500 GEL, or 2.53 times more than the average salary of 1,773 GEL (fourth quarter of 2022) reported by Geostat.
Georgian Tech survey indicates that even though salaries in IT companies with the aforementioned status vary in a number of ways, the industry will continue to be the most lucrative in 2022. According to the research, IT specialists aged 27-29 and 35-39 earn the highest salary, which is 8,500 GEL on average. The lowest salary comes to the age group of 15-17 years - 1,250 GEL.
The research indicates that the range of salary volume is even sharper if we take seniority into account. Specialists with 6 to 12 years of experience earn the highest salaries, averaging 12,500 GEL per month. The salary for those with 4-6 and 12-15 years of experience is 8,500 GEL. Specialists with less than 1 year of experience have the lowest salary - 1,250 GEL.
In terms of gender distribution, the study included 90% men (257 respondents) and 10% women (27 respondents). In this instance, the median or average salary is 4,500 GEL and is the same for both genders.
Employees in the IT industry are paid differently depending on which programming languages they know. Specialists who work on Kotlin have the highest average salary - 8,500 GEL per month. TypeScript experts are in second place with 7,500 GEL. With a monthly income of 5,500 GEL, the most popular Javascript experts rank fifth. SQL specialists earn the least, with a monthly salary of 3,000 GEL.
According to Shorena Kopaleishvili, Chairman of the Association of Georgian Virtual Zone Persons, information technology (IT) is not only one of the fastest-growing industries, but it is also an essential component of progress. She claims that the business community has identified several major economic effects of information technology.
1. Direct job creation - The information technology industry is and will continue to be one of the biggest employers.
2. The contribution of information technology to the growth of the gross domestic product (GDP)—instances from other nations support the positive effects of IT in this area.
3. Creation of new business administration models - accessibility to public or private services via technology and the Internet.
4. Business Advancement – The use of information technology tools by businesses boosts productivity and enhances business
Data requested from the Revenue Service confirms that companies with the status of Virtual Zone Persons represent an important link in this direction in Georgia. If the taxes paid by these companies exceed 2,225,000 GEL in the budget in the first year (2011) after the introduction of tax benefits, this figure will exceed 70 million GEL in 2022.
Supporting initiatives that work to build strong Western representation is crucial. High-tech start-ups and investment initiatives should receive more active support. The government should actively support the country's positioning in this direction. According to Shorena Kopaleishvili, Georgia has a real chance to compete with multiple advanced nations and draw sizable investments in the information technology sector with the right, open, and pro-business policy.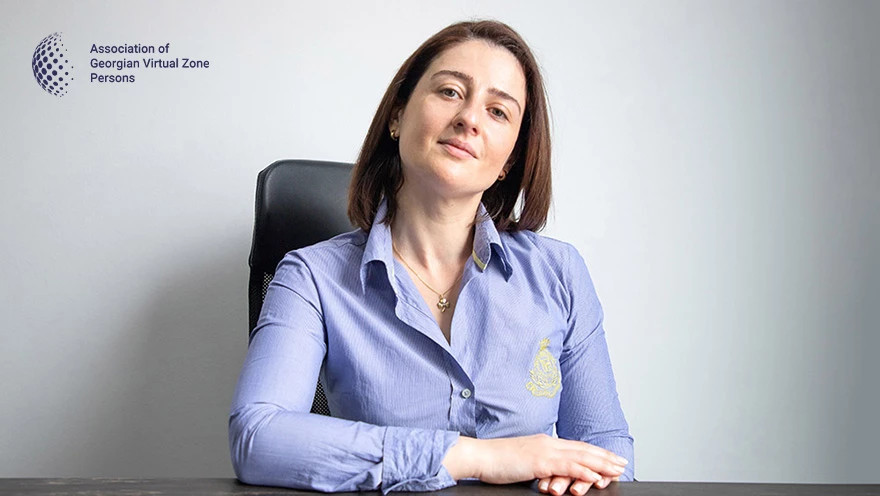 Shorena Kopaleishvili
Chairman of the Association of Virtual Zone Persons